Best things to do in Athens
Athens, the capital city of Greece, is a destination rich in history, culture, and natural beauty. With a plethora of attractions, here are the top three things to do in Athens that you shouldn't miss. Firstly, visit the Acropolis, one of the most iconic landmarks of Athens. It's a hilltop citadel consisting of several ancient buildings, including the Parthenon, which is considered a symbol of ancient Greece. You can also visit the Acropolis Museum, which showcases artifacts and sculptures from the Acropolis.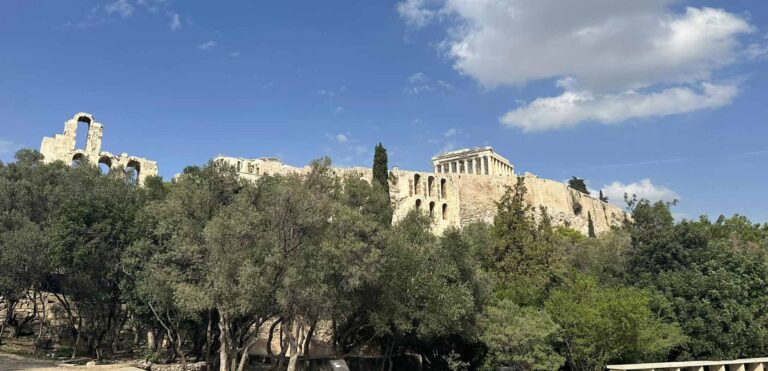 Secondly, take a stroll through the historical Plaka neighborhood, which is located just below the Acropolis. With its narrow streets and colorful neoclassical buildings, Plaka is like a journey back in time. You can find numerous souvenir shops, restaurants, and cafes here, and don't forget to visit the ancient Roman Agora and the Tower of Winds, located nearby.
Lastly, make sure to explore the vibrant Monastiraki Flea Market, which is full of unique and colorful items. Here, you can find everything from traditional Greek food and handmade souvenirs to antiques and vintage clothing. You can also visit the nearby Tzistarakis Mosque, which has been converted into a ceramics museum, or the ancient Hadrian's Library, which is a popular attraction in the area.
The best tours in Athens, the must do!
Best things to do in Athens
Athens, the capital of Greece, is a city steeped in history and culture, offering a wide range of activities and attractions for travelers to enjoy. Here are 20 of the best things to do in Athens:
Explore the Acropolis

: Start your journey in Athens with a visit to the iconic Acropolis, where you can marvel at the Parthenon and other ancient temples that have stood for thousands of years.
2. Visit the Acropolis Museum: Located at the foot of the Acropolis, this museum houses an incredible collection of artifacts and sculptures from the Acropolis, providing context to the site's history.
3. Wander through Plaka: The charming neighborhood of Plaka offers narrow, winding streets lined with neoclassical buildings, small shops, and traditional Greek tavernas. It's a perfect place to soak in the local atmosphere.
4. Discover the Ancient Agora: Explore the Ancient Agora, an archaeological site that was once the heart of ancient Athens. Don't miss the Temple of Hephaestus, one of the best-preserved Doric temples in Greece.
5. Climb Lycabettus Hill: Hike or take the funicular railway to the top of Lycabettus Hill for panoramic views of Athens and the Aegean Sea, especially stunning at sunset.
6. Stroll through the National Garden: Escape the city's hustle and bustle by wandering through the lush National Garden of Athens, home to beautiful plants, ponds, and even a small zoo.
7. Visit the National Archaeological Museum: This museum boasts an extensive collection of Greek antiquities, including sculptures, pottery, and jewelry, making it a must-visit for history enthusiasts.
8. Explore the Benaki Museum: This museum offers a comprehensive look at Greek culture, from ancient times to the present day, through its diverse collection of art and artifacts.
9. Attend a Greek performance: Experience traditional Greek culture by attending a performance of Greek music, dance, or theater at a local venue like the Odeon of Herodes Atticus.
10. Taste Greek cuisine: Athens is a food lover's paradise, so be sure to sample classic Greek dishes like moussaka, souvlaki, and baklava at local restaurants and markets.
11. Shop at Monastiraki Flea Market: Hunt for souvenirs and unique finds at the bustling Monastiraki Flea Market, where you'll find everything from antiques to handmade crafts.
12. Visit the Byzantine and Christian Museum: Explore the rich religious history of Greece through its extensive collection of Byzantine and Christian art and artifacts.
13. Marvel at the Panathenaic Stadium: Admire the world's only all-marble stadium, which hosted the first modern Olympic Games in 1896, and even take a lap around the track.
14. Take a day trip to Delphi: Discover the ancient sanctuary of Delphi, a UNESCO World Heritage Site, and explore its archaeological treasures, including the Temple of Apollo.
15. Relax at the Athenian Riviera: Enjoy the sun and sea by heading to the nearby Athenian Riviera, where you can swim, sunbathe, and dine at beachfront restaurants.
16. Visit the Museum of Cycladic Art: This museum is dedicated to the art and culture of the Cycladic islands, featuring stunning ancient sculptures and contemporary art.
17. Explore the neighborhood of Exarchia: Known for its alternative vibe, Exarchia is home to street art, independent shops, and a lively nightlife scene.
18. Go on a day trip to Cape Sounion: Visit the Temple of Poseidon at Cape Sounion, perched on a cliff overlooking the Aegean Sea, and witness a breathtaking sunset.
19. Discover the Gazi District: This former industrial area has transformed into a trendy neighborhood with hip bars, restaurants, and art galleries.
20. Attend an outdoor cinema: Experience the magic of watching a movie under the stars at one of Athens' open-air cinemas, a popular summer pastime for locals and visitors alike.
Athens offers a delightful blend of history, culture, and modernity, making it a captivating destination for travelers seeking a diverse range of experiences. Whether you're a history buff, a foodie, or simply looking to soak in the Mediterranean ambiance, Athens has something to offer everyone.